Warranty Policy
OX-BRAKE is warranted for a period of 1 year,(12 months) from date of purchase against any defects in material or workmanship. All ox-brake component parts excluding the cable/cable assembly are warranted against breakage for 12 months from date of purchase. Simply return the failed/broken component, with your name, address, approximate date of purchase, Postage paid to:
OX-BRAKE
735 EVERETT ST
LAKEWOOD, CO 80215
30 Day Satisfaction Guarantee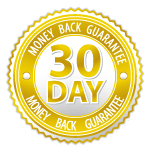 We offer a no hassle "30 Day Money Back Guarantee". If within 30 days from date of purchase you are not satisfied with the product, you may return it for a full refund.
Note: Please contact us by phone, email or contact form for assistance with proper adjustment or installation.
NO OTHER WARRANTY EXPRESSED OR IMPLIED WILL BE HONORED. INSTALL THIS PRODUCT AT YOUR OWN RISK.